Parson Cross Forum delivers four
fantastic weekly Dementia / Alzheimer's activity's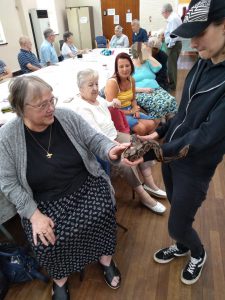 IMPORTANT: Due to Covid-19 and the need to social distance, Parson Cross Forum has had to cancel all groups & activities until further notice and please note that other parts of our website may not be up to date.
For us to continue to support our members we have changed the way we are working.
But if you need to contact us, all our contact details are all still the same:
Telephone number 0114 3279727
Email louise@pxforum.org or louisec@pxforum.org
Facebook https://www.facebook.com/parson.crossforum.5/
For our Dementia Cafes and JABADAO group members, we are now delivering 3 weekly Memory Cafes online via the Zoom app. This allows our members to keep in touch and still share peer support. To find out how to join our online cafes, contact us on 0114 3279727.
We are also offering telephone support to our members who are living with dementia and their carers and our most vulnerable members including those with underlying medical conditions and people who are having to self-isolate. But if you need to call us or you need to talk, please get in touch, we are here to help.
We have our JABADAO group that runs every Monday 1pm till 2pm and our Memory Cafe that run on a Monday, Tuesday and Friday 9.30am till 11.30am (Tuesday is term time only).  All the groups are a great community activity for people with dementia and their families.
The JABADAO project funded by the National Lottery Community Fund is a Creative Communication group aimed specifically for people with mid to late stage Dementia / Alzheimer's. It is free to attend and is run by a Co-ordinator and volunteers, we work to improve the lives of people living with Dementia / Alzheimer's and their carers.
The group is an hour of fun and laughter using movement as the shared language. Both standing, but mostly seated in chairs, we us lots of beautiful props to enable everyone to join in – in their own unique, full-bodied, wholehearted way. Staff and volunteer are trained to engage with every member no matter how frail or how boisterous and have fantastic relationships with all the people who attend.
Carers are welcome to join in the activity or have a cuppa and a chat with others.  You may like to share experiences or even just sit and read a newspaper for an hour, the choice is yours!
Our Memory Cafe's are funded through the National Lottery Community Fund and (Monday and Friday) and the People Keeping Well in their Community Partnership and SOAR (Tuesday) and are aimed at encouraging participants with early/mid stage memory loss to socialise & network with others. Participants and carers come along and purchase a light breakfast using the cafe facilities, such as tea, coffee, juice, toast, toasted tea cakes, buttered scones, sausage or bacon sandwiches. They then participate in an hour's *free activity, which vary's each week, such as singing for the brain, dancing, arts and crafts, bingo, animal encounter and light exercise.
The Cafe's also have occasional speakers who come along to talk about memory loss and services available throughout the City.

Places must be booked for our free JABADAO, but you can just turn up for the Memory Cafe's (Tuesday term time only. If you would like to know more about any of our projects or would like to book a place for our JABADAO group then give us a call on 0114 3279727 or email louisec@pxforum.org.
Below is a link to a short film we had made at a celebration event for our Dementia Group, hope you enjoy watching it!
https://www.youtube.com/watch?v=oya-IZvxR0Q&feature=youtu.be
*FREE- The activity is free for both groups, however you can purchase breakfast at the Memory Cafe – this is not included.